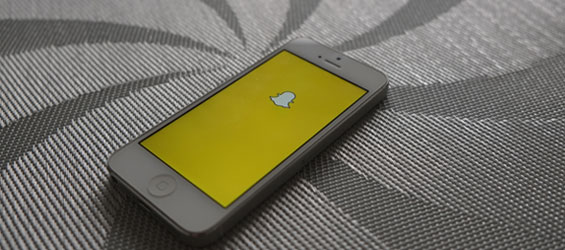 Photo Credit: AdamPrzezdziek/flickr
You may know Snapchat as an app that's popular among a younger demographic, but it's proving to be an effective marketing tool.
Snapchat for brands is an emerging trend, as the app improves its marketing capabilities. If part of your brand strategy targets millennials, Snapchat marketing is definitely the way to go!
Why Use Snapchat?
Snapchat is unlike any other social platform, including Facebook, Twitter or Instagram, which might be why it's so effective. A major difference that makes Snapchat stand out is the time constraint put on your content. Posts on other social networking sites can be accessed at any time, but Snapchat posts expire.
Using the Snapchat Story feature is the best way to go for brands, which can be viewed an unlimited number of times within a 24-hour period. Sending individual Snaps to followers is also an option, but they expire once viewed. On Snapchat, your posts don't get buried in a timeline like the other social media sites.
Another feature that makes Snapchat unique is the ability to customize your photos or videos with geo-tags, doodling, time stamps, emojis, filters, slow motion and other capabilities. These options give you the ability to be super creative and to have fun!
Here are a few ways you can use the app to market your brand:
Giveaways & Special Offers
Offer exclusive promotions and contests to your Snapchat followers. It is a great way to host giveaways because you can communicate directly to your audience with back and forth Snaps. Posting flash sales on your Story is also a great idea because the content expires in 24 hours.
Tell Stories
Posting a series of Snaps to your Story to create a narrative is a great way to entertain your Snapchat followers and give them something to remember. Combine video and images, mixing in the fun customization tools to make your Story one of a kind.
Make Announcements
Using Snapchat to announce new products or events is a great way to cause excitement in real time. This gives your followers a feeling that they have an inside scoop to what's going on with your brand. It's also a great place to announce new blog posts and offerings because of the fact that your content does not get lost in a newsfeed and all of your followers are likely to see it.
Call To Action
Though followers do not have the capability to like or share a Snapchat post, there are still ways to invite participation from your audience. You can still measure certain KPI's on Snapchat such as views and screenshots. For example, ask viewers to screenshot their favorite "new arrival" and then post individual photos of your products on your Story. You will be able to see which is the most popular.
Snapchat Ads
Though in the early stages, Snapchat ads definitely have a promising future. They are not totally available to everyone, but so far Snapchat ads have made their way onto public Stories, as well as being sent to individuals. A benefit of Snapchat ads is the fact that it takes up an entire screen of your mobile device, which again, doesn't allow it to get lost in a sea of advertisements. These ads are not overly invasive though, since users are able to easily skip through them if they are not interested.
You have to remember that Snapchat is mainly about having fun and being creative. It is a way to further humanize your brand and entertain your followers. Make sure you jump on the app sooner than later, as we believe it will prove to be a huge marketing trend in 2016, along with virtual reality technology.