Our Custom Website Design service has no boundaries.
Upgrading your look? How do you wow people—encourage browsing, pull at emotions, and incite rapid action?
Hint: not with a cookie-cutter site. Rather than using prefabricated templates and themes, our award-winning creative team designs your site from scratch, delivering an exceptional and unforgettable experience for users—and a strategic, integrated system for you.
Responsive Web Design
It is long time since mobile web browsing surpassed desktop Internet usage. With more people on their phones than ever before, your website needs to function across all devices—from desktops and laptops to smartphones and tablets. Using responsive web design techniques, we build you a visually stunning, compelling website that knows the device a user is on—and adapts to fit the screen.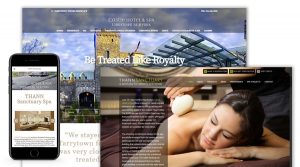 Content Management & Web Development
We marry custom web design with custom web development for a truly seamless user experience—on both sides. With robust yet easy-to-use content management systems, Liqui-Site provides a powerful foundation for all the functions you might need "behind the scenes". Want efficiency? You'll have it with a single dashboard—and everything you need built right in.
See how our solutions work for ecommerce.
Custom Website Design & Search Engine Optimization (SEO)
Boasting a visually impactful website is nice, but content is what drives business. We make sure that your custom website design follows strategy—and not vice versa—with meticulous on-page optimization.
For example, Google indexes a page's content from top to bottom. So, we strategically place your targeted keywords toward the top—without compromising engagement, to be sure your website will appear in the first positions and get many organic clicks.
Liqui-Site creates a captivating big picture, with a sharp eye on all the tiny details that make it work. You end up with a site that's astonishing, memorable, and effective.
Elevate your style, streamline your processes, extend your reach. Contact us today.