A professional web hosting management is essential to any organization that has an online presence. You want to stay online 24/7 and if any issue occur, a team of experts to rely on is needed.
Secure & Stable Web Hosting
You've worked hard for every visitor you get to your site. They're there because you've built cred with the search engines, placed an ad, earned a referral—or happy campers are raving on social.
Now, imagine a new visitor lands on your home page—only to get an error message or have the site not load fast enough. They might never come back. Just like that, your business goes to someone else.
It's time to protect your investment and a professional Web Hosting Management made by experts will help you.
Liqui-Site's web hosting solutions keep your site up and running, and keep hosting mishaps and security threats at bay. The industry-leading networks we use guarantee 100% uptime (excluding regularly scheduled maintenance every few months).
The level of security in place for access to our servers is unsurpassed. This protects your data—and potentially your customers' data—from falling into the wrong hands.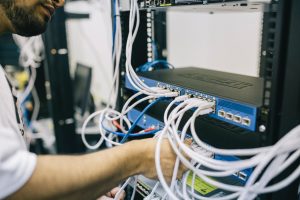 Forward-Looking WordPress Management
Our web hosting services don't stop there. If you're hosting with Liqui-Site and use WordPress as a content management system, we give you absolute peace of mind.
For a flat monthly rate—equivalent to an hour's worth of web development—we keep your CMS up to date and impenetrable.
As part of our ongoing package, we test all core, non-core, and plug-in updates on a staging site, then push them to live. If any issues arise, we remedy all breaks that stem from update conflicts at no additional cost to you.
Simple, affordable, protected—that's how we think web hosting should be.
Contact us today to learn more about our comprehensive, strategic digital solutions. We are even stronger thanks to eMazzanti.