With our custom ecommerce website, no more abandoned shopping carts. Piecemeal platforms. Sites that don't adequately showcase or sell your goods.
Whether you're a new or existing ecommerce business, these common issues don't have to plague your store. That's where Liqui-Site comes in, building custom ecommerce sites that both drive qualified prospects and increase sales.
It's important to understand all three of your audiences: customers, search engines and internal managers. Through stunning custom design, savvy SEO tactics, and a seamless, well-built system, you can attract customers—and make life easier on the fulfillment side, too.
All-in-One Solutions, A Simplified Experience for All
Effortless usability translates directly into a simplified shopping experience for customers. Instead of weaving together multiple programs, we outfit you with a single solution—everything your ecommerce business calls for in one robust platform.
Magento is an all-in-one solution for businesses with moderate to enterprise-level needs. We'll showcase your products using a straightforward CMS (content management system) that allows you to easily manage new content, marketing promotions and more. Manage your inventory and customers, and track orders from fulfillment to delivery. We pay attention to every detail—then hand you the keys and support your technical and digital marketing needs so you can focus on growing your business.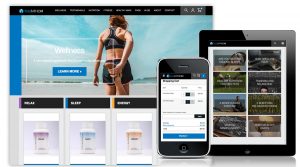 For more modestly-scaled businesses, we can construct your custom ecommerce site using platforms such as Shopify, Volusion, or WordPress.
If you'd like to handle inventory, order, and customer management within your own systems, we can develop a custom ecommerce website solution that integrates with those to create a seamless experience for your customers and your team.
Worried about users leaving your site with items still in their shopping carts? See how our retargeting solutions can combat shopping cart abandonment.
Liqui-Site delivers strategic ecommerce solutions built around human behavior. Feature a new item in a single click, and users can purchase it just as easily.
Elevate your style, streamline your processes, extend your reach. Contact us today.