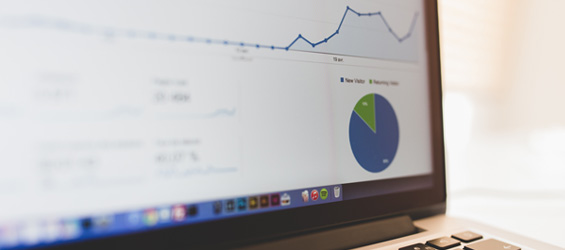 Social media marketing is an investment of time, resources and money – it's important to know that you're getting out as much as you're putting in.
41% of companies said that they have no idea whether or not their social media efforts are actually paying off.
Along with effectively measuring your blogging efforts, keeping track of the results of your social media marketing efforts is crucial to your digital marketing success. Doing so will allow you to determine whether or not anything you're doing is actually working and you can see where there is need for improvements.
Set Goals & Define Strategy
Measuring social media ROI (return on investment) is different for every brand; it all depends on your specific goals. In order to be able to measure these efforts, social media marketing goals must be in place. Clicks, likes, followers, lead generation, contest entries, traffic, reach, revenue, etc. only matter if they relate to your business goals. Come up with a strategy and figure out what is most important to your brand in regards to social media.
Choose The Right Metrics
Now that you've decided on your goals and strategy, figure out which metrics coincide with these objectives. Compare these analytics to your goals to make sure that they are being met. Stay on top of the data so that you can be aware when something changes. Making reports based off your findings is a great way to compare metrics from previous periods. Do it weekly, monthly, quarterly, yearly–whatever feels right for your company.
Adjust & Improve
After looking at these metrics, you will be able to take the next step in your social media marketing efforts. You can determine which platforms you should be focusing on, what times you should be posting and what types of content you should share. Tracking your social media ROI doesn't only show you how valuable your efforts are, it can help you increase that value over time. Constantly updating your strategy in relation to the data you find will ensure social media success!
Measuring your social media ROI isn't impossible, you just need to give it a strategic approach. Remember that there is a lot of immeasurable value that comes from social media marketing, such as brand reach, natural inbound links and partnerships. These are important factors to keep in mind when evaluating just how valuable social media marketing can be for your company.
At Liqui-Site, our team will help you determine what approaches your business should be taking in order to get the most out of social media marketing. We work with our clients to figure out what's working and what isn't in regards to your goals and strategy. Contact us to schedule a consultation with our experienced digital marketing team.