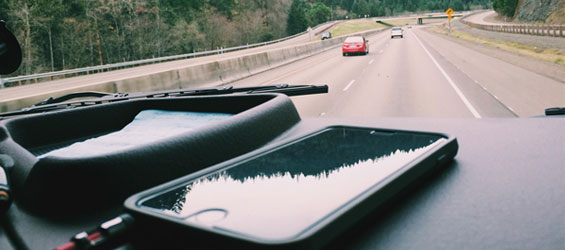 During our summer series, #LiquiRoadTrips, we informed you about all the best apps and technology to have for a road trip, like digital sharing apps.
Our mobile devices have changed the way we travel, but we have to remember what it's like to embark on an adventure tech free! We suggest committing a few hours a day on the road to unplug and go old school.
Follow Your Route On A Paper Map
Mobile navigation apps definitely come in handy when taking a road trip, but don't forget to bring along a classic paper map as well. Mark out your route with a marker and save the map to remember your trip!
Make A Mix CD
Remember the days where you couldn't make a playlist on the go or look up a specific song on YouTube? Make a mix CD before you travel and listen to it in the car. These songs will always remind you of this trip.
Make Up Your Own Games
Even though there are road trip game apps that put a modern twist on the classics, making up your own games with your car-mates can be tons of fun. Get creative and come up with something completely new!
Follow The Signs
Once you put your phone away, you'll be reminded of all the quirky billboards that pop up along your route. Find a sign for a roadside attraction that interests you and take a detour! Visiting the world's largest ball of twine or America's smallest town for some extra fun memories.
Ask A Local Where To Eat
You can always check apps like Yelp or Urbanspoon to find a place to eat, but nobody knows the best local restaurants like someone that lives in the area! Take a chance and ask around for the best taco spot in town or the resident favorite diner.
Non-Messy Crafts
Bringing the little ones along for the ride? There are some great apps to keeps kids busy in the car, but you don't want them to completely rely on devices for entertainment. Bring along some pipe cleaners, foil, string and some coloring books with crayons to let them get creative!
And with that, summer is ending and our #LiquiRoadTrips have reached their destination. We hope you had a great summer hitting the road with us! What was your favorite #LiquiRoadTrips post? Let us know in the comments below!