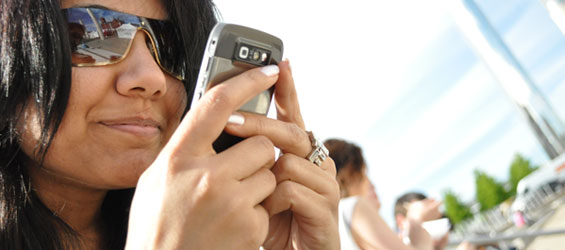 Photo credit: razorshine/flickr
Giving back has never been easier with the development of new technology and innovative ideas. With these mobile apps and online services, you can give on the go! Here is a list of some of our favorite fundraising tools to #WorkToDoGood:
SnapDonate
Walking down the street and see someone raising money for your favorite charity? See an advertisement for a cause that inspires you? You don't need cash to contribute anymore. The SnapDonate mobile app enables users to donate just by pointing their phone's camera at a charity's logo. The app will recognize the logo and then prompt you to select the amount you want to donate. It's that simple!
Promise or Pay
Make changes in your life while making a change to help others. Promise or Pay is a service where users can publicly make a promise – or donate to participating nonprofits if they break that promise. Users can even get their friends and loved ones involved by having them donate if the promise is kept. Think "I promise to exercise 3 times a week" or "I promise to quit smoking". It's a win-win situation where you can achieve your goals and make a difference.
GoodWorld
Give to your favorite causes using the power of the hashtag. With GoodWorld, users can donate by simply using the #donate hashtag in their tweets or Facebook comments. Just comment on the Facebook Page or tweet with the handle of the charity of your choice, with the amount you wish to donate and the hashtag. Once you register your credit card with GoodWorld and connect it to your social media accounts, donations go through automatically each time the hashtag is used.
Give App
Make tax-deductible donations quickly and easily with Give App! Give to any nonprofit in the U.S. with just 2 taps on your device. Users can even create their own fundraisers and custom campaigns for their favorite causes using this app.
Dollar A Day
Have a low budget, but still want to give back? Donating a dollar each day can make a bigger difference than you think. Dollar A Day is a service where users can sign up to donate $30 a month, which then automatically donates $1 each day to different nonprofits. This platform's goal is to raise money for nonprofits that are doing highly effective work, but are not very well known. The user will get a brief daily email telling them about the nonprofit that they donated to on that day, which may inspire them to give even more to that cause.
Charitweet
We spend so much time on our social media feeds, why not do some good with that time? Charitweet gives Twitter users a direct line to donate money to their favorite charities by tweeting or retweeting posts that include @Charitweet, the cause's handle and the amount of money they want to donate. Similar to GoodWorld, Charitweet allows us to use our social media presence for good and may even inspire followers to do the same.
The easier donating gets, the more people are likely to give back. With these services, and others like them, people will be inspired to make a difference. Which of these tools are you going to try first?
At Liqui-Site, we specifically work with cause-minded organizations to do more good and inspire social change. Questions for our team? Let us know in the comments below!