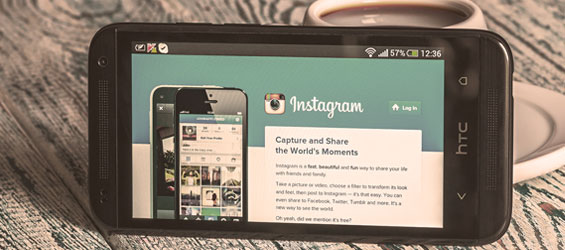 Twitter and Facebook are a given when it comes to what platforms you decide to use for your business' social media marketing plan – but what about Instagram?
Some may not understand how Instagram brings value to a brand's online presence, but it's perfect for promotion due to its highly visual content and large user base. Yet, businesses have been slow to pick it up; In fact, only 23% of brands have an Instagram account. With its rising popularity, you may be overlooking Instagram as part of your integrated digital marketing strategy.
Why should you make an Instagram profile for your brand? Well, let's start with the fact that consumers absolutely love it! There are more than 300 million users and the numbers continue to grow. In 2014, the number of U.S. users increased by 60%.
Instagram allows businesses to create a unique presence that augments their digital marketing strategy. The unique marketing tools and strategies make Instagram a necessity when trying to add variety and value to your social media efforts.
There are so many tactics and approaches to using Intagram to promote a brand. Try these different Instagram strategies and see what works best for your business:
Promote Your Products
Instagram is all about visuals, so what better way to use the platform than to show your followers exactly what you are selling. Post images of your products in action; show how they can be used and who uses them. Using Instagram to post graphics with promotional codes or special offers is a great way to gain followers and customer loyalty.
Engage With Customers
Engaging with your followers authentically on all social media platforms is a must. Respond to comments on your posts, but also make sure to comment on posts in which your brand is tagged. If applicable, repost images of customers using your products; this will make people more likely to post about your products and spread the word about your brand. Use hashtags on your photos specific to your brand and see who else is using them. Engage with anyone that has something to say about your business on Instagram, and you may end up acquiring more followers.
Host Giveaways & Contests
Excite and reward loyal followers by hosting a contest on your business' Instagram account. It's a great way to show appreciation for your followers, as well as a way to connect with individual consumers. This will also increase your brand reach. If fans are posting about your giveaway on their own Instagram page, that will make their followers check out your page as well.
Behind The Scenes
Give your followers a "backstage" look at what goes on in your company. Show your work areas, your team in their environment, how products are made, etc. Use moments that very few people will ever get to experience in real life. This not only makes your business more relatable, but it makes followers feel as if they are experiencing something special by following you. Every brand has a story, give your followers a little insight into yours.
A well-rounded social media presence is key when it comes to having a successful social media marketing strategy. If your business has yet to create an Instagram profile, it might be a channel worth considering.
Questions? Comment below or contact us to schedule a consultation.