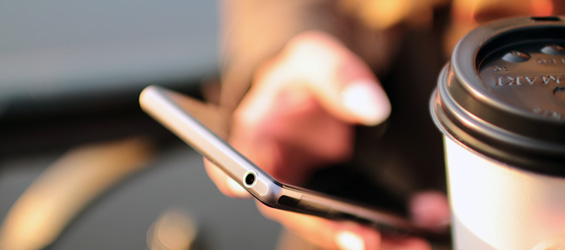 Mobile marketing has had a good run, but the race has only just started. By 2019, mobile advertisement expenditures are estimated to account for 72 percent of all American digital ad costs. The marketing world's reliance on mobile is serious, and this year's advertising revenue has already soared $2 billion past last year's $9 billion. We're only beginning to breach the surface of mobile marketing, and business providers are turning to smartphone-powered platforms for solutions.
Mobile marketing isn't letting up, and it's sure to reveal new, expansive possibilities:
1. Mobile Marketing is Piggybacking on Custom Web Design
In recent years, mobile marketers have reworked entire platforms to accommodate for custom website design. Mobile users appreciate website simplicity, ease of navigation and credibility. Because of this, professionals across many industries are pairing custom web content strategies with smartphone access. While a quality content strategy, alone, is worthwhile in today's world, mobile integration is unbeatable.
2. Mobile Coupons are Taking Charge
Currently, 50 percent of American consumers land direct purchases after receiving a digital coupon, QR code or linked discount via SMS. A lot of people text, and a lot are engaging brands via SMS-based alerts, discounts and codes. The days of hand-clipped coupons are out. The marketing world is shifting to text-prioritized discounts, and it's profiting from mass influxes of information gained.
3. Mobile Advertisement is Shifting to Video
In 2016, mobile ad spend is expected to take up 51 percent of the digital market. Mobile ad spend is being invested wisely, and big business moves are being made. Providers like Apple and Google are prompting new ad placement standards, prompting marketers to shift to mobile video.
At the bottom line: Mobile video advertisement works. If you've witnessed a viral video campaign, you probably know why. Mobile video, slowly, is becoming a modern marketing cornerstone, and business providers are just now grasping its benefits.
4. Location-Based Data is Customizing the User Experience
Successful businesses, in 2016, know how to customize the buyer's experience. If your brand wants to interact with its customers, it needs to offer real-time options. 73 percent of consumers state they prefer businesses offering customizable shopping experiences. Because customization is in, the mobile marketing world is experiencing innovative sparks.
Today's providers are using location-based data to create customer-centric marketing plans. They're offering behavior-triggered questionnaires, brick-and-mortar-based apps and local shopping deals. In doing so, they're reaping mass amounts of localized data. Mobile marketing serves both the customer and business provider, reworking transaction terms to meet the needs of both sides.
5. Real-Time Alerts are Creating Anywhere, Anytime Solutions
Buyers have busy lives. Between work, school, family and recreational activities, smartphone holders rely on their devices for news, communication and utility. The mobile marketing world's recent real-time innovations have created an "always on" environment, wherein buyers are constantly connected to products, services and purchasing options.
Buyers are confirming ticket prices, using QR codes, checking into hotspots and striking up online conversations. Every day, SMS and mobile apps pull ahead with cross-channel automation. We've only begun experimenting with mobile marketing, and it'll be a while before experts maximize its functionality. Now, more than ever, it's time to double down on mobile outreach.
Your customers are always moving, always researching, always buying and always connecting. Modern marketing teams can't survive without mobile connectivity anymore, and the world's best businesses, by 2020, will be fully integrated. Where do you stand?
What's Next?
Have you implemented a mobile content strategy service this year? Tell us about it in the comments below!