Here at LIQUI-SITE, we're known for our passion for digital marketing. We have successfully helped countless clients over the years utilize each and every cent of their marketing budget effectively, and we know the importance of successful projects for small businesses. We love to see the businesses we help grow!
Small businesses are the backbone of the American economy and of the greater New York City and North Jersey region, where we're proud to be based! That's why our mission is to help them grow.
Help Small Businesses with a Review
Right now, small businesses across North Jersey are hurting. The COVID 19 pandemic and ensuing lockdowns and economic calamity have affected smaller businesses more than most. We're here to help them however we can. Now is the time for small businesses to maximize their ROI on design spends, which is why we are here to help!
An easy way that you can help small businesses during this time is to leave a rating or review for your favorite small businesses! If you love your corner bar, leave them a review on Google Reviews. Have a favorite restaurant? Head on over to TripAdvisor and give them a review. Also, if you love your B2B service provider, leave them a review on The Manifest!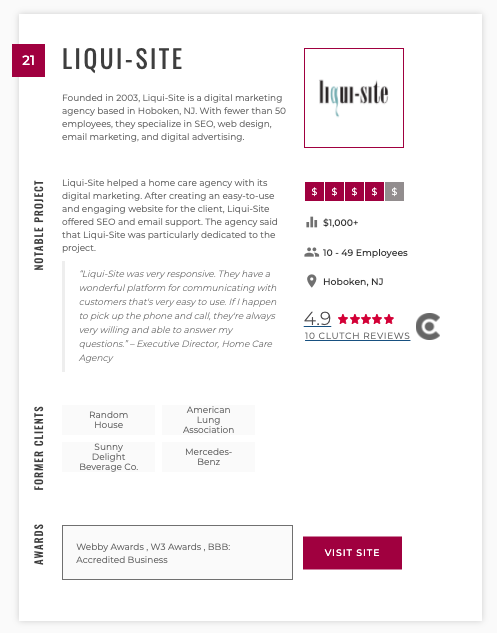 The Manifest is our preferred ratings and reviews platform of choice, it recognizes leaders in each industry!
Liqui-Site Rave Review
In a recent review, Connor Swegle, chief marketing officer for Priority Bicycles, praised the B2B website development we did for their bicycle brand. Successfully launching the site in two months, Priority described our work and the overall process as fantastic. And they described our team as responsive, experienced, and professional.
"I really appreciate Liqui-site's ability to take leadership in the development process," said Connor Swegle.
We're incredibly grateful for Connor and to all our many satisfied clients! If you are looking to join their ranks, please contact us today!
ㅤ