Watson Adventures is the leading scavenger hunt company in the United States. The company offers public, corporate, and private hunts for all ages and occasions.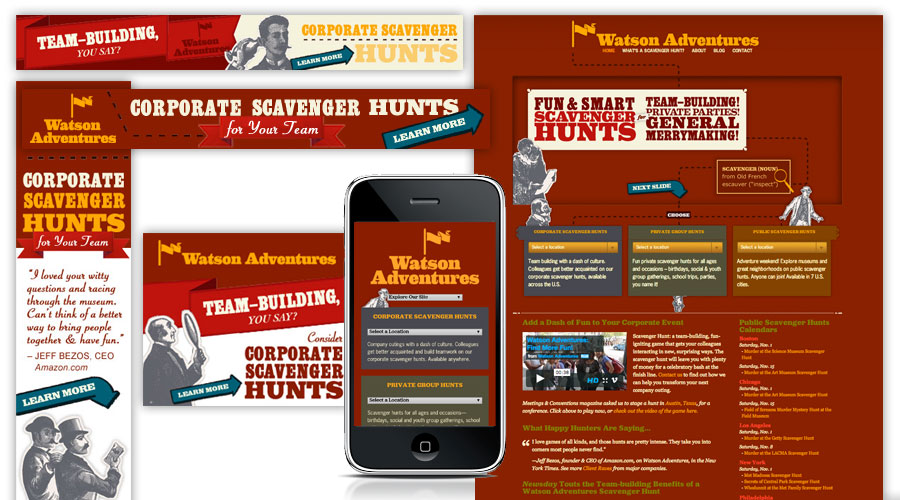 The Challenge
When their website was launched, Watson Adventures realized that although their brand was solidified – and the site both looked great and functioned well on the front-end – the web development company they used had not optimized the site for organic search. Popular pages appearing in organic search results were not redirecting properly; and on mobile devices, the site left users hunting for a better brand experience.
The Solution
Liqui-Site worked with Watson Adventures to define targeted search terms for public, private and corporate scavenger hunts in each part of the U.S., and then optimized the top fifty pages of the site from every angle, including page titles, meta descriptions, alt tags for images, body copy and more. Liqui-Site developed a custom SEO plug-in, unique to Watson Adventures' needs, so they had complete control over existing location pages, as well as any new location pages created as the business expands. Liqui-Site then launched a mobile optimized site for best user experience. In addition to ongoing organic search services, Liqui-Site has managed digital ads for Watson Adventures. After launching the responsive (RWD) version of their website in 2015 and focusing on local SEO efforts for outlying areas where corporate hunts are held, Liqui-Site has most recently been retained for Search Engine Marketing / PPC Management.
Creative & Technical Execution Services
The Results

In a two-year comparison, Unique Visits/Sessions are up by 156%, and though they're evening out, the traffic is now much more qualified. Regarding conversion, 37% of all leads were referred through organic search, and the company saw an increase of 50% for corporate leads – its largest revenue driver – with an overall increase of 22% across all lead types.
The Reference
"Liqui-Site does great work and we recommend them to everyone! Their behind-the-scenes performance optimization work has made the site load faster, and their SEO wizardry has us soaring in organic rank for targeted terms. No wonder our hunts are selling like gangbusters! Within 3 months, unique visitors have increased by 140%; corporate leads are up by 50% (up 22% across all categories), and most impressive – conversion from organic search increased by 37%."
– Bret Watson, Founder & President
Visit: www.watsonadventures.com