Published by International Media Group, Inc., The Swim Journal is a leading global trade publication covering the swimwear, beachwear, resortwear and accessory industries. For decades The Swim Journal has been coined as the bible of the industry delivering up-to-the minute industry news and information on the lastest fashion trends, lines, fabrics and products.
Liqui-Site provided custom responsive website design and web development, implementation on WordPress CMS— and continues to both host the site and handle ongoing WordPress Management services. Features include an interactive online publication that auto-detects a user's operating system, dynamic events calendar with sync options, streamlined buyer's guide, industry news feed, and more. For advertisers, new opportunities are now available via display ads, email marketing and other digital marketing initiatives—increasing the number of revenue streams for the publisher.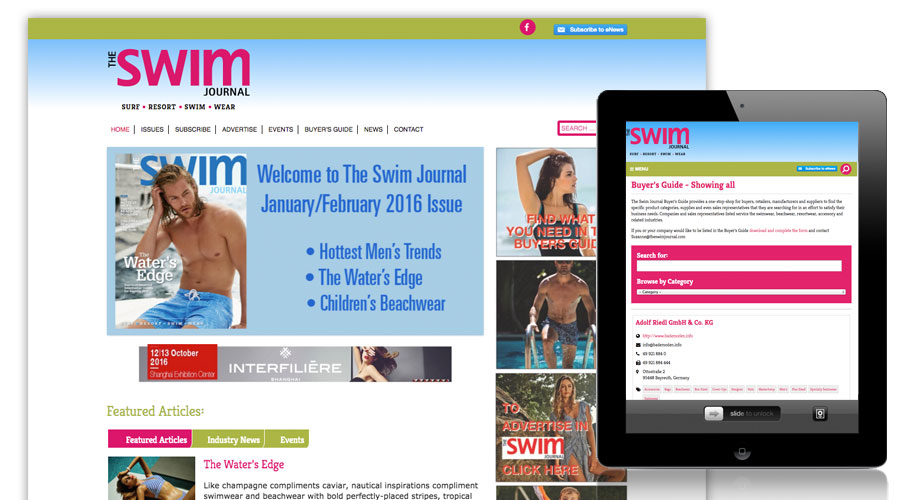 Creative & Technical Execution Services
"After working with the Liqui-Site team on our fourth website, it was once again a great experience—especially because of the aesthetic required for this site. They delivered a beautiful and functional website. Their expertise in SEO, the latest web technologies and digital marketing is impressive. In working with them, we were able to relax and trust the outcome for the future success of The Swim Journal."
– Klaas de Waal, PUblisher & CEO, International Media Group, Inc.
Visit: www.theswimjournal.com