The County of Rockland in New York's Lower Hudson Valley Region offers a myriad of indoor and outdoor activities for those interested in coming for the day or staying for the weekend.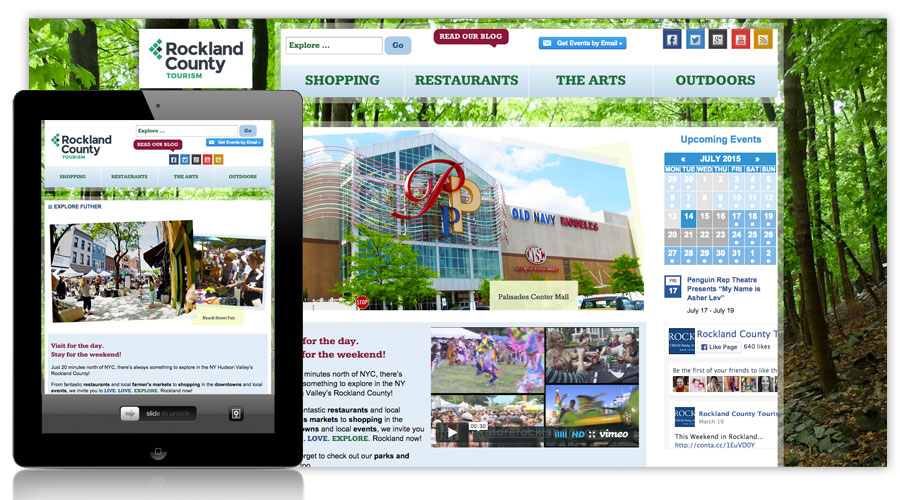 The Challenge
The County's previous tourism website lacked visual appeal – and photos of events, restaurants and places to visit were devoid of people. Social media channels hadn't been updated in years, and much of the information on the website was outdated. For local residents, who don't consider themselves "tourists", it was difficult to find a central online destination for happenings and listings in their own County. For those interested in exploring Rockland County from neighboring counties, Manhattan, and afar, the site did not effectively communicate a reason to visit in person.
The Solution
Liqui-Site created a custom website with vibrant visuals and dynamic, updated content in order to entice visitors to explore all that Rockland County has to offer, including upcoming events, where to shop, places to stay, restaurants in every town, farmer's markets, outdoor excursions, the arts and more. Responsive web design (RWD) allows users to view the site on any device with a seamless experience. Both blog and email marketing functionality were integrated so that the County can easily and proactively communicate with those interested in updates on events, new restaurant openings and more. Local users also have the ability to submit their own events via the website for posting approval. Lastly, an advertising component was built into the back-end of site, which will be rolled out publicly in 2016, in order to offset website management and hosting costs.
Creative & Technical Execution Services
The Results

From November 2015 through January 2016, Sessions from tablet and mobile devices account for 39% of site traffic due to the new responsive website; 71% of traffic is from New Users and Bounce Rate is lowest on mobile devices due to the mobile-first UX strategy implemented.
The Reference
"Our new interactive website provides visitors with a range of information so they can quickly learn about all of the wonderful tourist attractions and events that Rockland County has to offer. Liqui-Site has done a fabulous job capturing the important elements and presenting them in a user friendly manner."
– Lucy Redzeposki, Director of Economic Growth, County of Rockland
Visit: www.explorerocklandny.com