PlayPhone provides social gaming solutions to the world's leading wireless carriers, aggregating a global gaming community and offering game developers quick access to millions of gamers, seamless monetization and powerful marketing opportunities.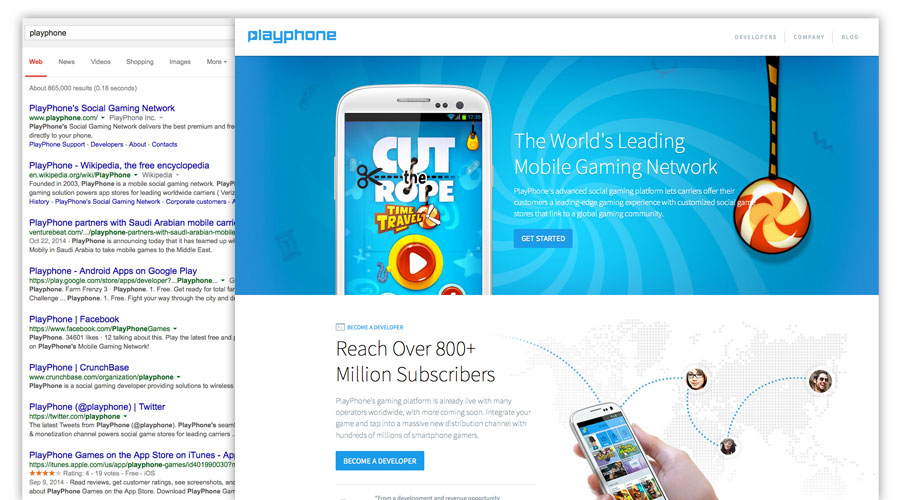 The Challenge
Like many providers, PlayPhone received complaints from customers who accidentally subscribed to services from their mobile phone. As PlayPhone grew, it kept pace to deliver fantastic customer service, however, online reputation issues of the past haunted them. To that end, traffic declined because PlayPhone's website was buried by less-than-favorable results on major search engines.
The Solution
Liqui-Site worked with PlayPhone to identify the keyword variations and links that were causing their reputation harm. We fine-tuned their site's navigation and provided page titles, meta descriptions, alt text for images, title text for links as part of our on-page SEO scope. Simultaneously, we worked on disavowing any spammmy inbound links; developed relationships with forums and review sites where customers had posted complaints; and ensured that the company respond publicly to all customer issues online – pointing them to their dedicated service and billing teams. Finally, we claimed and cleaned up all online listings to update brand identity, messaging and contact information.
Creative & Technical Execution Services
The Results

After twelve months, Unique Visits/Sessions were up by 85%, and Page Views had increased by 110%. We were able to get the brand's site, as well as external, positive or neutral sites on the entirety of the first results page of the search engines.
Visit: www.playphone.com