A wellness lifestyle start-up, Full Fathom was founded by a psychologist and psychiatrist duo in private practice. The company's initial product line includes four dietary supplements: Energy, Focus, Relax and Sleep—the most common issues that Americans deal with today. Full Fathom's vision is to vitalize others and share an experience in mind and body balance and wellness.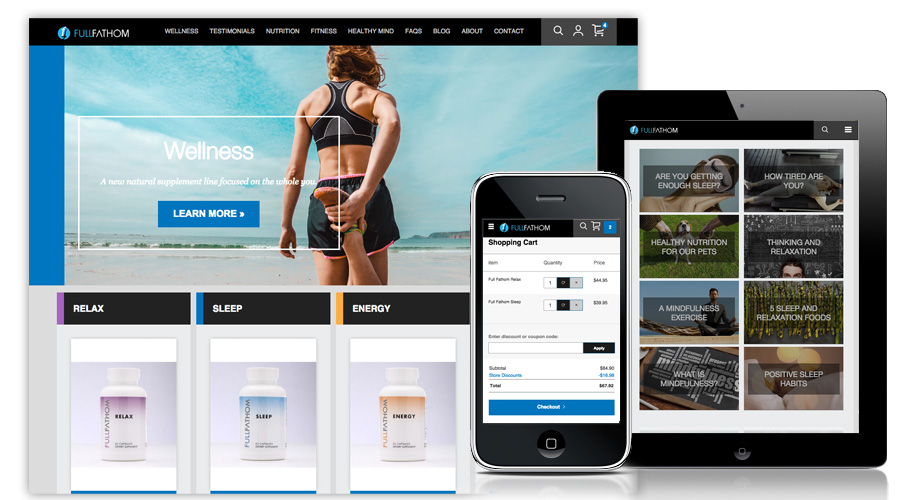 The Challenge
The challenges with start-ups are multifaceted brand awareness and reach to a highly competitive market and funding for integrated digital marketing.
The Solution
Liqui-Site performed competitive analysis, designed a custom ecommerce website built on Ecommerce Creator™, fully optimized for organic search and developed a blog for consumer resource purposes in the realm of Nutrition, Fitness and Healthy Mind. Liqui-Site handles website maintenance, organic SEO, web and blog hosting, as well as WordPress Mangement.
Creative & Technical Execution Services
The Reference
"This journey of helping and inspiring others started many years ago and will always be our passion and primary focus. We know how important it is to surround ourselves with others intent on doing right and doing well for others. From our first encounter with Liqui-Site, it was a great collaboration. We can't thank the team enough for always sharing in our excitement, being patient and supporting us. We're looking forward to future success in collaboration."
– Mohab Hanna, M.D. and Dr. Alexander Wright, Psy.D., Founders
Visit: www.fullfathomwellness.com