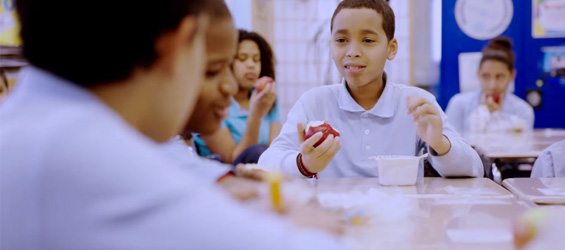 As you may know, the Liqui-Site team is dedicated to its mission to deliver measurable results for cause-minded organizations through integrated digital marketing. Whether we're volunteering through our philanthropic arm, Work To Do Good Foundation, or raising awareness for some of our favorite causes, social good is our passion.
This December, we've decided to highlight some of our favorite causes. You may even want to consider donating to or volunteering with them this holiday season.
This week, we take a look at No Kid Hungry, an important foundation dedicated to ending childhood hunger in America.
16 million kids in the United States suffer from hunger – a sobering statistic to those who may not realize how severe the hunger situation in this country actually is. No Kid Hungry has multiple programs that focus on where kids learn, where kids live and where kids play.
75% of teachers report that their students come into school hungry regularly. No Kid Hungry decided to implement breakfast programs in schools around the country. Making sure these children are fed in the morning not only improves their nutrition and health, but it helps students focus throughout the school day. School breakfast programs cause students to miss less school, get better grades and have a higher likelihood of graduating high school.
One of No Kid Hungry's programs focuses on educating families on how to properly feed their families. The Cooking Matters Program gives parents the tools they need to cook healthy meals, as well as tips on how to stretch food budgets. Making changes in home nutrition can make a world of difference for struggling families.
Your donations to No Kid Hungry can help launch school breakfast programs, recruit summer meal sites and empower families to prepare healthy meals. Donations help provide grants to the most effective hunger-fighting organizations in the country that focus on specific communities.
Be sure to keep an eye out for more #DoGoodDecember posts all month long – follow us on Instagram, Twitter, Facebook and Pinterest to learn about these critical causes!